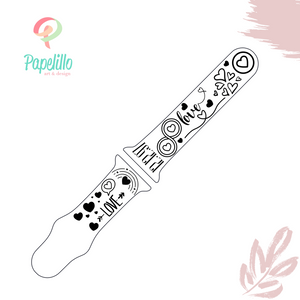 Personalized Gift for all occasions, These are a perfect replacement for your smart watch or would make a fantastic gift!. THE DESIGN YOU SEE IN THE PICTURE IS THE DESIGN YOU WILL RECEIVE ON THE BAND!!! You will receive 1 personalized strap just like photo, no watch is included. These bands are made of silicone.

These watchbands fit exclusively Apple watches of all series. These watchbands are not apple brand. They can be used for engraving as they are high quality silicone or if you want to change your outfit and decide to change your watchband that day! Some colors may be darker than others and some may be lighter from the picture due to the lighting and due to my screen. Silicone replacement watch band compatible with Apple Watch. These custom watch bands are laser engraved, Compatible with Series SE/7/6/5/4/3/2/1 Apple Watch.
Enter date.

Please note if you order a dark band, it may have a white tint to it due to the engraving. Please check the size on the back of your watch to choose the correct size before purchasing
The size for 38/40 S/M
Wrist Size: 5.1-7.1 inches (130-180mm)

The size for 42/44 S/M
Wrist Size: 5.9-7.9 inches (150-200mm)

The size for 38/40 M/L
Wrist Size: 5.5-7.5 inches (140-190mm)

The size for 42/44 M/L
Wrist Size: 6.3-8.3 inches (160-210mm)

Disclaimer: The metal buckle of the band is a mixed metal containing nickel. Please consider this if you have allergies or sensitivities to certain materials.
SHIPPING INFORMATION: Turnaround time is 3 weeks. Shipping is first class. If needed sooner I always work on time, if you are in a rush and need your order soon, please contact me, with much pleasure we would love to help you.

Ready to use, please be aware that customized products cannot be exchanged or refunded.